Thursday, August 16, 2018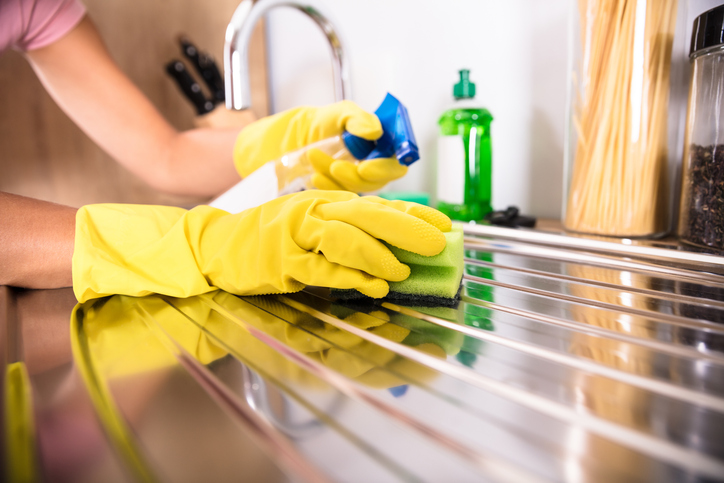 From copper sinks to cast iron tubs, a wide range of sleek and stylish metals have found their way into our hearts and homes. But while they look great, metals can often be problematic when it comes to maintenance. Here's a quick guide for keeping your favorite household metals in prime shining shape:
Copper -
While there are commercial cleaners available to care for your copper accessories or a copper sink, you can put natural ingredients to work, too. According to the DIYNetwork.com, try mixing one-quarter portion of salt with one-quarter portion of flour, then add enough vinegar to make a paste. Use a soft cloth to rub the mixture on the surface of the copper then rinse with warm water and dry thoroughly. You can also experiment with lemon or lime juice mixed with baking soda, vinegar mixed with salt, or ketchup all on its own. The acidic content in these items goes to work on removing dirt and restoring the luster to copper.
Stainless Steel -
There's nothing quite like a kitchen full of gleaming stainless steel appliances...until every smudge and fingerprint starts showing up! While the cleaning aisle is littered with products designed specifically for cleaning stainless steel, a lot of them do a less-than-stellar job, often leaving streaks and such behind. HGTV.com recommends three home-made solutions:
- Spray and wipe with vinegar, then buff with a small amount of olive oil
- Clean with dish soap then wipe with a small amount of baby oil
- Spray and clean with club soda
A few things to remember in all cases when it comes to stainless steel:
- Use a soft cloth, such as microfiber
- Wipe in the direction of the grain
- Not all stainless steel is created equal, so the best cleaning solution may vary among appliances
Cast Iron -
When it comes to cleaning cast iron pans, provided you seasoned it correctly before you first used it, scrub the pot with a stiff bristle dish brush and dish soap, then warm it on the stove for about 30 seconds or until dry. Then season it again with a little vegetable oil. Once it's cooled, says Good Housekeeping, put a paper plate or paper towel in the mouth of the pan to absorb moisture while you store it. At all costs, don't let it soak or put it in the dishwasher!
For cast iron sinks and tubs, use baking soda and vinegar and scrub with a rag or soft sponge.
RISMedia welcomes your questions and comments. Send your e-mail to: realestatemagazinefeedback@rismedia.com