Thursday, October 24, 2019
By Barbara Pronin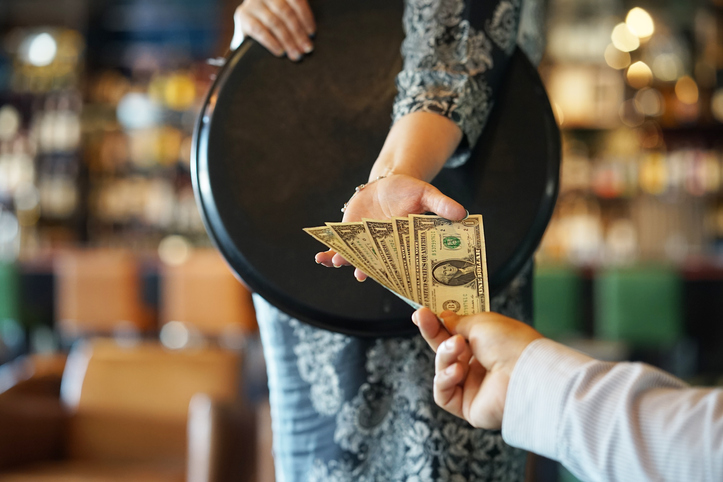 In Japan and South Korea, and often in China, tipping is considered rude. In many other parts of the world, tipping is a voluntary gesture in consideration of excellent service.
In America, however, tipping is optional in name only. For restaurant servers and other service people, unless the service was horrid, it is absolutely expected. But for those who may wonder whether tipping amounts have changed in today's economy, or how much to tip for new and emerging services, the Emily Post Institute provides this guide:
Restaurant servers.
For sit-down service, 20 percent of the pre-tax bill is expected these days, 15 percent for less-than-stellar service. For buffet or counter-ordered meals, tipping 10 percent of the pre-tax bill is sufficient.
Bartenders and baristas.
Typically $1 per drink is expected for the bartender, 15 - 20 percent of the bill if you run a tab. No need to tip the barista, though $1 for making you a special concoction is nice.
Meal delivery.
You can still tip the pizza delivery person $2, but drivers who deliver a pre-ordered meal or meals, the standard can go up to $5 or more, depending on the size of the order. (For take-out orders, no tip is required, although a buck in the tip jar is a nice gesture to the people who pack up your food.)
Housekeepers.
For hotel maids, $2 - 5 per night is the expected norm. At home, tip a weekly or bi-weekly housekeeper at the end of the year, typically the equivalent of one week's or one month's pay.
Hotel concierge.
No tip is required for answering a question or two, but if the concierge goes out of their way to get tickets for you, tip $5 - 10, more if they're hard-to-get tickets.
Hair stylist, manicurist, or pedicurist.
Generally, tip 15 to 20 percent of the bill, and if more than one person was involved in your service, you can ask for the tip to be split.
Spa/massage.
Tip between 12 and 20 percent of the bill, depending on your appreciation of the service.
Dog groomers/caretakers.
If you choose to tip the groomer, 15 percent of the bill is more than fair. Caretakers who watch your pet regularly can be tipped once at the end of the year. One-time pet sitter? It's up to you.
RISMedia welcomes your questions and comments. Send your e-mail to: realestatemagazinefeedback@rismedia.com