Tuesday, March 27, 2018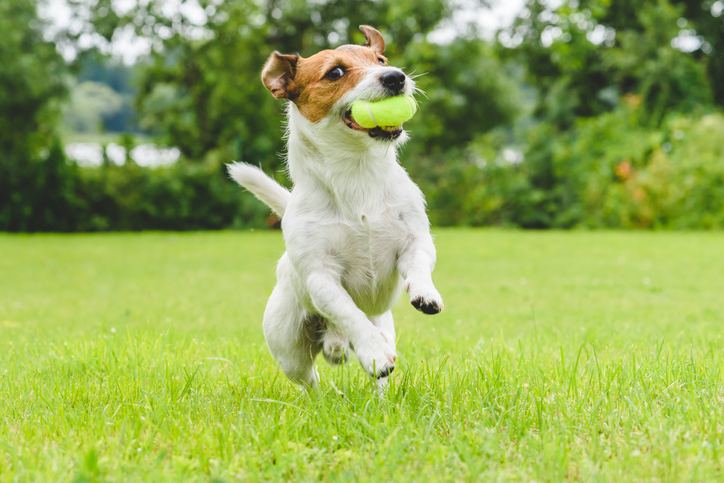 Did you know that according to the ASPCA, about 44 percent of all households in the United States have a dog? Here are some tips from the Outdoor Power Equipment Institute (OPEI), to help get your yard in prime condition for your pooch:
Tune up your turf.
Make sure your lawn is in tip-top shape and ready to handle the wear and tear of an active pooch. As the weather warms up, grass is moving into an active growth phase, so begin mowing as soon as your lawn needs it.
Up your yard's dog appeal
. Soft foliage, sturdy turfgrass, smooth stones, and dog toys will help a pet feel at home. Add a water station or a fun water feature where your pooch can cool off when it's hot.
Plan for fun
. Set up an area for dogs to dig, such as a digging box or digging bed, or a canine obstacle course, if you have room.
Use plants as boundaries.
Place plants close together in spaces you wish to designate as off-limits, and train your dog to avoid these areas. Create open areas where dogs can run and play.
Avoid toxic plants that can be harmful to pets.
Dogs do not naturally avoid plants that are toxic to them and many will eat plants that are not safe for consumption. A few common toxic plants for dogs are: carnations, chrysanthemums, daffodils, hostas, ivy, lilies, morning glories, tomatoes, and tulips. For a complete list, visit ASPCA's list of nontoxic and toxic plants for dogs.
Look for hazards and eliminate them.
Some paved or sandy surfaces may get too hot for your pet to walk on comfortably. Tiny pebbles, thorns, or gravel can get caught in paws. Ensure your pet's main play area includes grass.
Check your fence.
A fence is an important safety feature for your pet. Make sure your fence is in good shape and take care of any needed repairs. Check to make sure your gate and its locks are working properly. Many dogs will patrol the edges of the yard and make paths near the fence line. Plan for these predictable paths in your yard and if you find them unsightly, you can add a gentle stone or mulch path. If you use an invisible fence, make sure it is properly working and that your pet knows the boundaries.
Create shady spots for snoozing.
Your dog will need a place to relax after a busy day of play. A tree or bush can provide the necessary shade for your pet, or consider a stylish dog house.
RISMedia welcomes your questions and comments. Send your e-mail to: realestatemagazinefeedback@rismedia.com