Thursday, November 10, 2016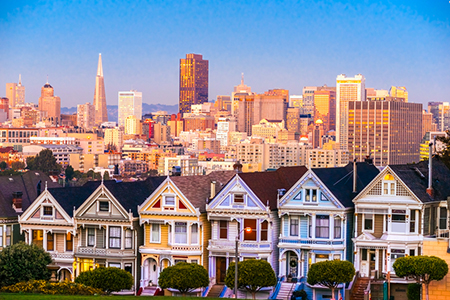 If you're looking to live in a wealth-building area, then results from a new Bankrate survey may be a bit of a surprise: pack your bags and move to the San Francisco Bay area.
Yep. Despite having some of the highest rents in the country, the Bay Area is the best U.S. metropolitan area for building wealth. The Bankrate survey ranked 21 large metro areas in five categories: savable income, human capital, debt burden, homeownership and access to financial services.
The nation's highest savable income is a big part of San Francisco's No. 1 overall ranking. The average Bay Area resident can sock away $16,657 per year, almost twice the national average, after subtracting local expenses from incomes. While it's a very expensive place to live, there are plenty of high-paying jobs, so residents are able to keep their non-mortgage debts low (fifth lowest among the 21 markets) and their credit scores high (second highest).
Minneapolis/St. Paul is second-best overall (aided by the lowest average unemployment rate over the past five years), Washington, D.C. is third (only San Franciscans are able to save more), St. Louis is fourth (it offers the best access to financial services) and Detroit is fifth (it has the highest homeownership rate and the lowest non-mortgage debt burden).
"Different metro areas affect households' abilities to amass wealth in different ways," says Bankrate.com analyst Claes Bell, CFA. "In some metro areas, like San Francisco, homeownership can be prohibitively expensive, but higher-than-average salaries can help residents stash more money away in tax-advantaged retirement accounts. On the other hand, Minneapolis-area residents don't earn as much, but the area's affordable housing and recovering real estate market provide opportunities to build wealth over the long term through home equity."
Source: Bankrate
RISMedia welcomes your questions and comments. Send your e-mail to: realestatemagazinefeedback@rismedia.com