Tuesday, April 11, 2017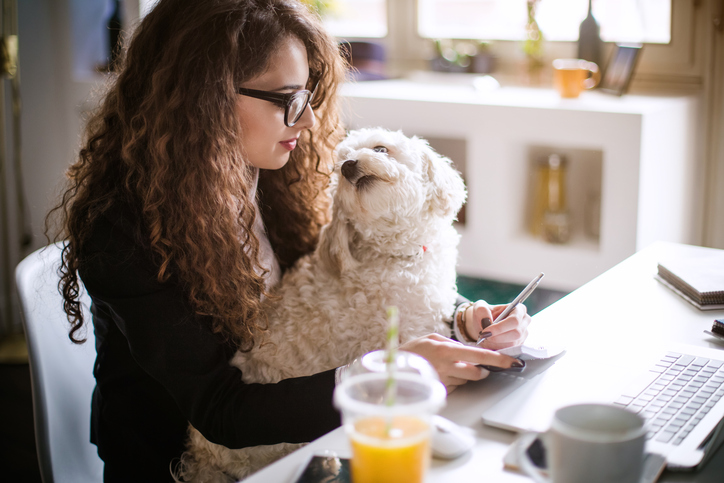 From in-house baristas to flexible vacation time, offices and businesses across the country and finding innovative ways to support their employees. Making your place of business pet-friendly can help attract animal-loving talent, lower stress in the office and even boost activity. Below are several tips for making any office environment more pet-friendly, courtesy of PetsBest.com:
Introduce the Idea Over Time –
Slowly adapt employees to the idea of having pets in the office. While some employees will be ecstatic, some may not be as thrilled. By slowly introducing pets with a weekly "bring your pet to work day," employees can get used to the new additions to the office.
Pet-Proof Your Space
– Just like bringing a baby to the office, pet-proofing is just as important. With cords and trashcans throughout a space, resolving these issues prior to having pets in the office will relieve chaos and issues down the road.
Set Rules and Expectations
– Some dogs just aren't set out to be an office dog. Setting both pet and owner behavior rules and expectations, everyone in the office is on the same page of what is expected of them. Whether it be barking or mess clean up, having expectations laid out will hold everyone accountable.
Hold Pet Interviews
– Before employees can bring their dog into the office, hold pet interviews. Some dogs, when in unfamiliar surroundings and with many people may not react appropriately for the work place. Like the trial run, this will give the dog and employees a chance to engage and become more familiar which will be helpful in the long run.
Stock the Break Room
– Not only with treats for Fido, but the essentials. Accidents happen, so making sure you have the appropriate supplies will make them that much less of a headache. By stocking up on cleaning supplies, stain remover, waste bags and treats, everyone will be happy knowing you are ready for whatever accident my come your way.
Offer Pet Insurance as a Benefit
– While some companies are scaling back on wellness benefits for humans, record numbers of dogs and cats are covered for veterinary expenses through employee-benefits plans that include pet insurance. Providing pet insurance to every employee will set the tone and reassure employees that you support and care for them, and their entire family.
Source: www.PetsBest.com.
RISMedia welcomes your questions and comments. Send your e-mail to: realestatemagazinefeedback@rismedia.com